Some Quick Statistics on Sharps Injuries
Here are some quick stats regarding sharps injuries in the healthcare industry – hospitals, clinics, and facilities.
Scalpel cuts are the second most common injury in the operating theatres, accounting for 7% of the total number of reported injuries.
Risks from the scalpel cuts have been documented including infection by HIV/AIDS, Hepatitis B, Hepatitis C, physical trauma, psychological trauma.
The cost of an uncomplicated injury has been estimated from US$500 to US$2,000 and from US$50,000 to US$100,000 for an injury requiring microsurgery up to 3 months of recovery.
The highest cost that has been reported was US$12.2 million to pay for a doctor who contracted HIV from a sharp injury.
World Health Organization (WHO) estimated that among healthcare workers worldwide, approximately 3 million experienced percutaneous injuries each year and out of those injured 70,000, 15,000, and 500 respectively were likely to be infected with hepatitis B, hepatitis C, and HIV virus.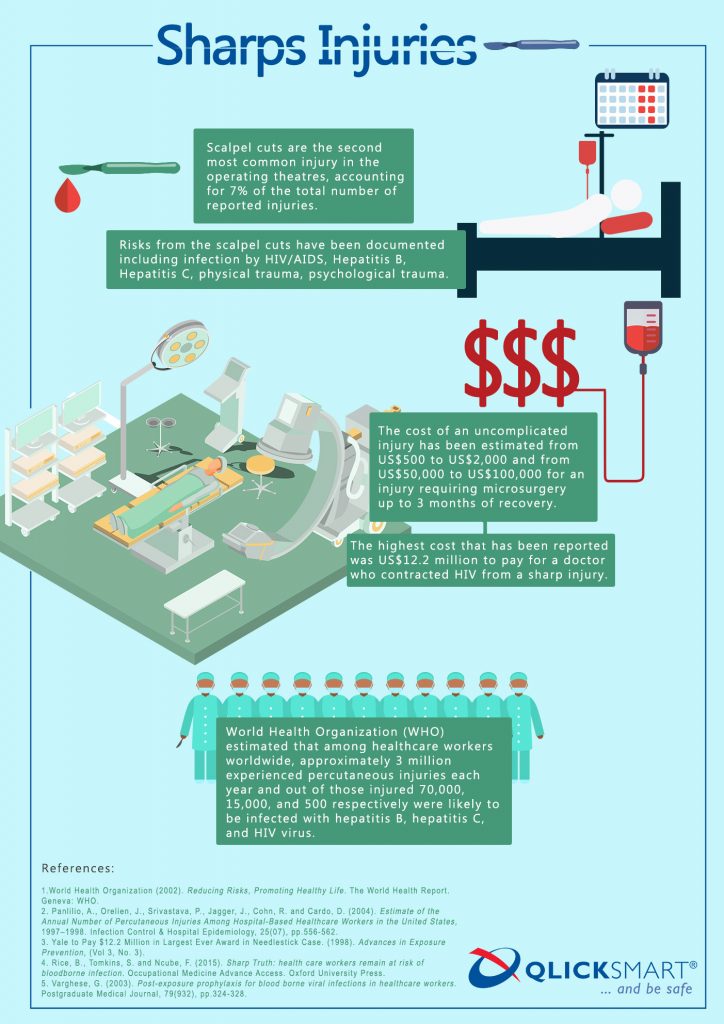 References:
1.World Health Organization (2002). Reducing Risks, Promoting Healthy Life. The World Health Report. Geneva: WHO. 2. Panlilio, A., Orelien, J., Srivastava, P., Jagger, J., Cohn, R. and Cardo, D. (2004). Estimate of the Annual Number of Percutaneous Injuries Among Hospital-Based Healthcare Workers in the United States, 1997–1998. Infection Control & Hospital Epidemiology, 25(07), pp.556-562. 3. Yale to Pay $12.2 Million in Largest Ever Award in Needlestick Case. (1998). Advances in Exposure Prevention, (Vol 3, No. 3). 4. Rice, B., Tomkins, S. and Ncube, F. (2015). Sharp Truth: health care workers remain at risk of bloodborne infection. Occupational Medicine Advance Access. Oxford University Press. 5. Varghese, G. (2003). Post-exposure prophylaxis for blood borne viral infections in healthcare workers. Postgraduate Medical Journal, 79(932), pp.324-328.