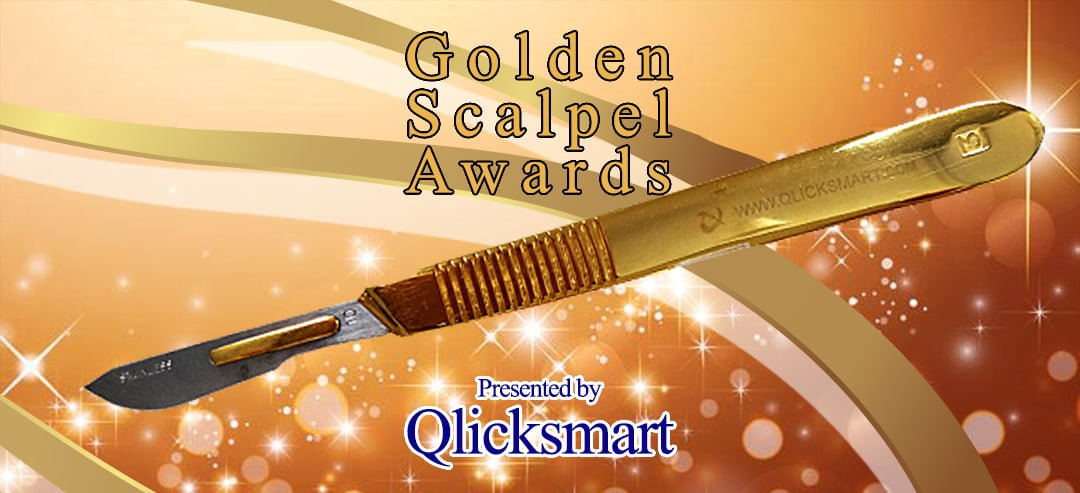 2020 has been a challenging year for many – especially for healthcare workers around the world on the frontlines of fighting the pandemic. Keeping healthcare workers safe is paramount, and the suppliers of medical safety products have stepped up to do so. We are proud to announce this years'  Golden Scalpel Awards to celebrate the great work our distributors continue to do to keep healthcare workers safe from preventable injuries.
If you are, or know a Qlicksmart distributor that has demonstrated quality, innovation, and excellence in service, please nominate them below for a Golden Scalpel Award.
Distributor of the Year Award
This award recognises excellence by a Qlicksmart distributor who has shown:
• Commitment to the Qlicksmart message
• Collaborative spirit with the Qlicksmart team
• Success and/or notable achievement within their market
Excellence throughout COVID-19 Award

This award acknowledges a distributor who has adapted to the challenges brought on by COVID-19, by:
• Maintaining customer engagement
• Adopting new technologies or ideas
• Providing quality supply chain management
Innovative Sales & Marketing Award
This award celebrates a Qlicksmart distributor who has demonstrated successful planning and execution of creative sales and marketing activities, such as:
• A marketing promotion or campaign
• Sales messaging and conversion
• Utilising the Qlicksmart Digital Platform
Nominations will be open from 19th November to 7th December. Winners will be announced by 15th December 2020.
For enquiries related to the Qlicksmart Golden Scalpel Awards, email goldenscalpel@qlicksmart.com.
Terms:
•  Distributors may be nominated for multiple awards.
•  Winners for each category will be decided by the Qlicksmart Golden Scalpel Award committee.
•  If an award category does not receive any nominations, a winner will be nominated and decided by the Qlicksmart Golden Scalpel Award committee.
•  Award Winners will be decided with criteria based on a combination of quantitative data such as purchase/sales data, and qualitative feedback from all departments across the Qlicksmart team
Benefits of participating in the awards
•  Helps identify your company's achievements.
•  An opportunity for your company to be recognised and promoted to prospective clients within the healthcare sector.
• Stimulates new ideas and opportunities to improve your business.
• Provides an opportunity for your company to celebrate its success and attract staff who care.