Sharps Injuries Statistics Around the World
It's concerning that even with all the medical breakthroughs and advances in surgical technology, the threat of getting a sharps injury in the healthcare setting is still a major concern amongst nurses, operating room technicians, and other healthcare professionals. These injuries are not just about getting an open cut, but also worrying are the blood borne diseases you can get such as HIV, Hep B, and Hep C.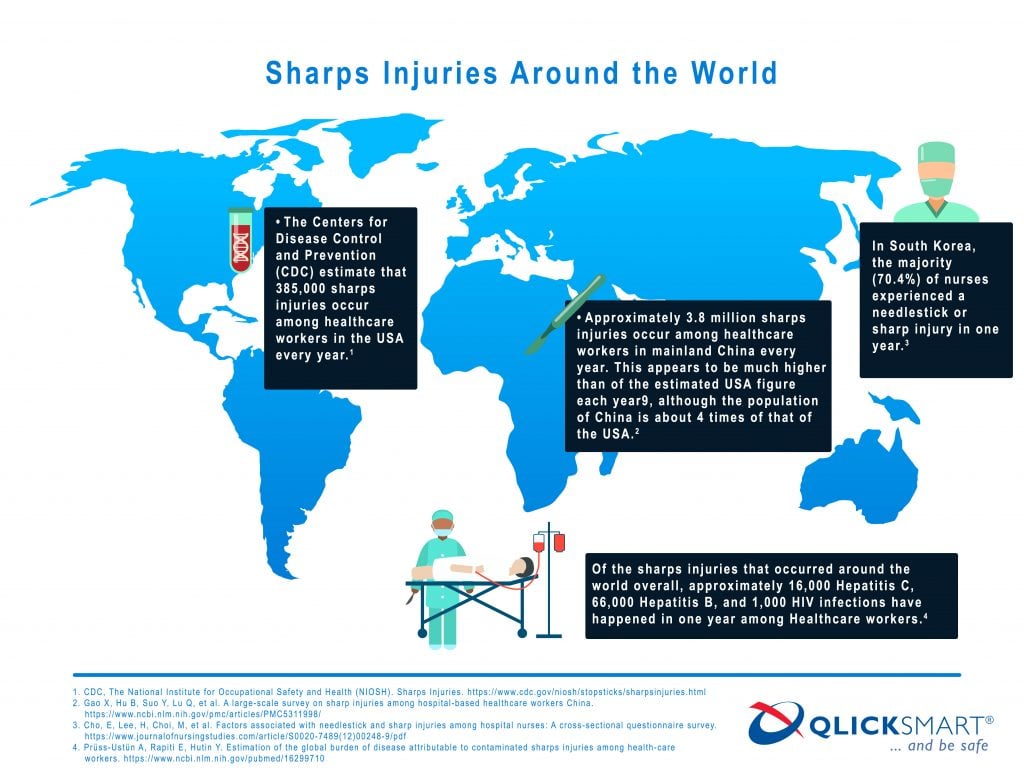 The Centers for Disease Control and Prevention (CDC) estimates that 62%-88% of sharps injuries can be prevented simply by using safer medical devices. These small investments, like the Qlicksmart BladeCASSETTE, can help protect yourself and your colleagues from unnecessary scalpel injuries. Furthermore, they can make your job much easier and enjoyable, and can potentially save your life and a big fortune.
References:
1. CDC, The National Institute for Occupational Safety and Health (NIOSH). Sharps Injuries. http://www.cdc.gov/niosh/stopsticks/sharpsinjuries.html
2. Gao X, Hu B, Suo Y, Lu Q, et al. A large-scale survey on sharp injuries among hospital-based healthcare workers China.
http://www.ncbi.nlm.nih.gov/pmc/articles/PMC5311998/
3. Cho, E, Lee, H, Choi, M, et al. Factors associated with needlestick and sharp injuries among hospital nurses: A cross-sectional questionnaire survey.
http://www.journalofnursingstudies.com/article/S0020-7489(12)00248-9/pdf
4. Prüss-Ustün A, Rapiti E, Hutin Y. Estimation of the global burden of disease attributable to contaminated sharps injuries among health-care
workers. http://www.ncbi.nlm.nih.gov/pubmed/16299710