Scalpel Blade Removers: One Hand Is Better Than Two
Scalpel blade removers are designed to protect the user and downstream staff from accidental injury when removing a scalpel blade from a reusable handle. These devices fall into two classes: two-handed scalpel blade removers and single-handed scalpel blade removers.
TWO-HANDED REMOVERS PUTS THE USER AT RISK
The two-handed devices are not endorsed by any legislation or recommendations. This is due to their two-handed operation that puts the users' hands at risk of being cut, and their active safety mechanism which carries the risk of non-activation or failure to function correctly. Furthermore, most two-handed blade removers' re-sheathing action usually requires the user to point the blade in the direction of their other hand. This is extremely unsafe and makes a scalpel injury far more likely. This danger informs the need for single-handed blade removers: aiming to remove any instance where the scalpel blade is directed towards the user.
Depicted below is a summary of the Australian Standard (AS/NZS 3825: 1998) on removing scalpel blades. Note how the only recommended method of scalpel blade removal is to use a scalpel blade remover- not forceps, fingers, or a re-sheathing action.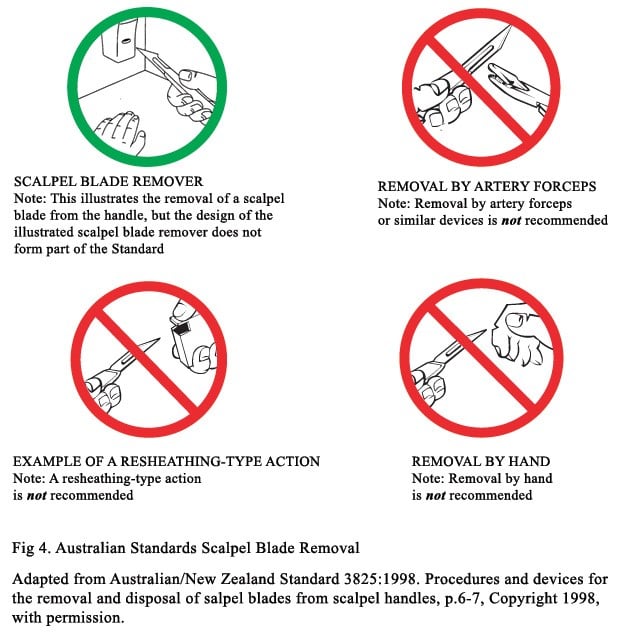 THERE IS A SAFER WAY
A perfect safety system to prevent all scalpel injuries is currently unavailable. Even banning scalpels and replacing them with surgical energy devices creates further issues such as smoke plume. Research shows that a single-handed scalpel blade remover combined with a hands-free passing technique is a safer alternative to other safety devices.
WHAT IS A HANDS-FREE PASSING TECHNIQUE?
A hands-free passing technique involves utilising passing trays, magnetized mats, or designed "neutral zones" to ensure that only one operator touches the scalpel at any time. The use of hands-free passing technique was effective in reducing sharps injuries from 10% to 4% in operations with greater than 100ml of blood loss.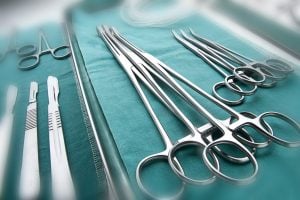 SINGLE-HANDED SCALPEL BLADE REMOVERS
Qlicksmart single-handed blades removers eliminate the dangers of removing scalpel blades with safe removal and containment of used blades.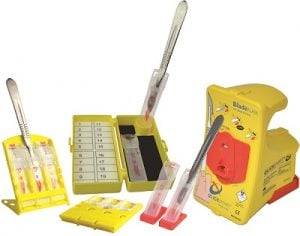 All these devices can be seamlessly integrated into current practice. The surgeon continues to use his/her preferred traditional metal handle and the nurse uses this single-handed (passive) safety device to remove the used scalpel blade (instead of fingers or forceps). Automatic containment of the used scalpel blade also ensures that downstream staff are protected from injury.