CheckCLIP (Box of 100)
In Stock
AUD 19.00
Keep track of medications using the CheckCLIP medication ID clips. Invented by EMPS for use in the field, these clips can help you avoid medication errors during busy and stressful times.
• Attaches to Luer and Luer-Lock syringes
• Doesn't obstruct measurements on medication
• Available for vials or ampoules
Price is for a box of 100 pieces.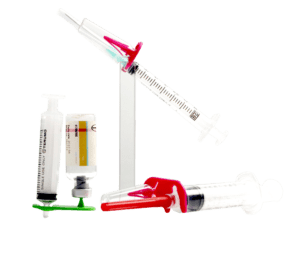 Specifications
• CheckCLIP type: For Ampoule / For Vial
• Compatible syringe sizes: 1-20ml Luer and Luer Lock / 1-20ml Luer and Luer Lock
• Compatible medication sizes: 1-10mL glass and plastic ampoules* / Vials with diameter up to 28mm*
*Compatibility may depend on the geometry of the ampoule or vial. Some brands may not work with CheckCLIP.
Brochures
FAQ
How many different versions of the CheckCLIP are there?
There are two versions of the CheckCLIP: Ampoule version (pink) and Vial version (green).
Is the CheckCLIP sterile or can it be sterilised?
Not to our current knowledge. The CheckCLIP comes in a non-sterile box of 100 pieces, and should not be sterilised. CheckCLIP is only used after the drug / medication in the ampoule or vial has been drawn up.
How should the CheckCLIP be disposed of?
Once medication has been administered and drug identification is no longer required, the whole syringe unit (with CheckCLIP and ampoule or vial attached) should be disposed of as a medical waste in a sharps container.
Can the CheckCLIP hold onto ampoules and vials securely?
The CheckCLIP is designed to clip securely on Luer and Luer-Lock syringes with a one-way mechanical action (barbs) to prevent ampoules or vials from dislodging.
Will the CheckCLIP prevent the cannula/needle from being placed securely?
No. The height of CheckCLIP is 2mm, and it is designed to fit within the standard tolerances of Luer syringes, between the syringe tip's base and the cannula or needle applied. If the cannula or needle is not applied correctly, it may dislodge regardless of the CheckCLIP.
Could there be a cross infection issue during drug administration?
The CheckCLIP is a non-sterile, single-use device only and should only be used with ampoules after the drug solutions have been fully drawn up (or as per prescriptions). Remaining solutions in the ampoule after the CheckCLIP has been inserted cannot be used later.
Universal precautions should always be adopted. Please check with your organisation's procedures regarding drug administration.
Is the CheckCLIP latex free?
Yes. The CheckCLIP is made of polypropylene (PP).