Watch Video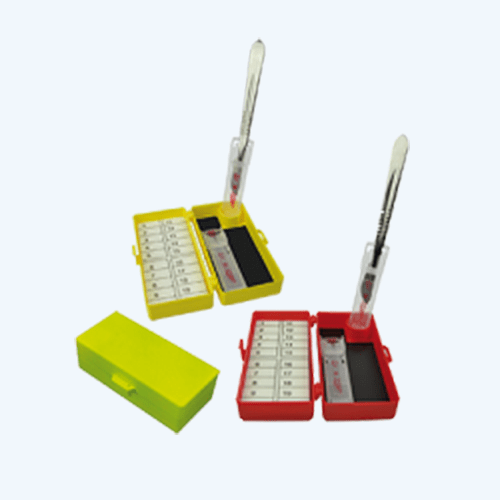 BladeNeedleSYSTEM Sterile Scalpel Blade Remover + Needle Counter
In Stock, contact us for quote.
enquire now to find a distributor in your area
The Qlicksmart BladeNeedleSYSTEM is two safety devices in one – the world's only single-handed scalpel blade remover is combined with the standard needle counter to allow an accurate count and efficient disposal of both scalpel blades and suture needles. It is simple to use with a quick, single-handed  "push, click, and pull" action to remove and contain used scalpel blades. Used together with a hands-free passing technique, the Qlicksmart BNS can prevent up to 5 times more injuries than a safety scalpel.
This easy-to-use solution provides a low cost alternative to safety scalpels, allowing surgeons to maintain their preferences for the standard metal handle. Available for sterile and non-sterile usage.
Note: The colour of the product is dependent on your region's sharps container regulations.
RED – USA, Central, and South America markets only
YELLOW – Oceania, Asia, Europe, Africa, and Canada markets only
Orange Label – UK and Ireland markets only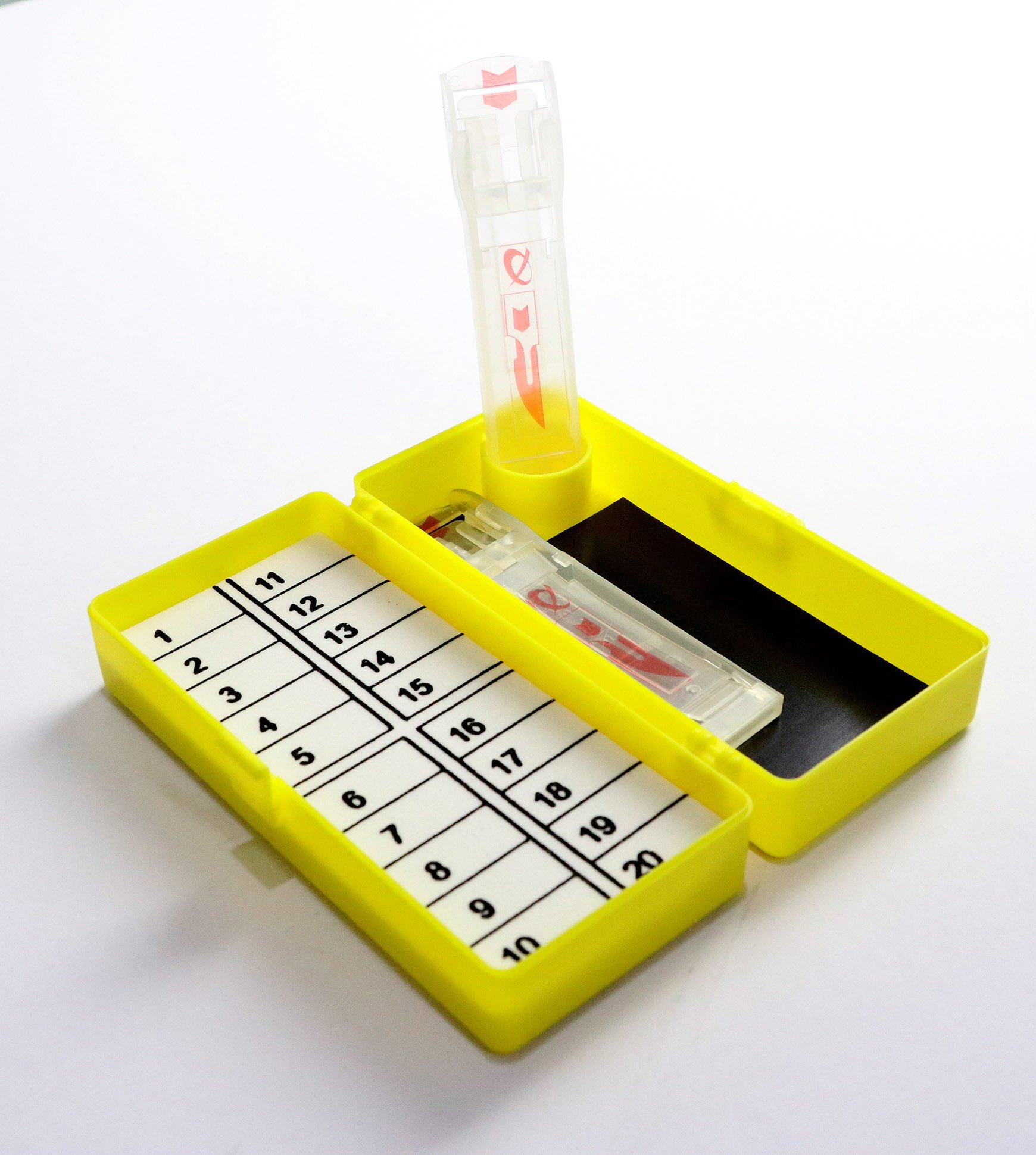 Description
Remove and contain sharps within the Operating Room with the BladeNeedleSYSTEM. Engineered by healthcare professionals, this two-in-one safety device helps you maintain optimum sharps safety practices.
• Audible click sound indicates safe removal
• Clear containment cartridges for an easy count
• High-density foam to safely secure suture needles
Specifications
• Blade capacity: 2 blades (1 blade per cartridge)
• Compatible scalpel blades: #10, 10a, 11, 11P, 12, 14, 15, 15a, 15c, 16, 19, 20, 21, 22, 22a, 23, 24, 25, 25a, 27, 36, 6, 9, E11, Sabre D/15. *
• Compatible scalpel handles: #3, 3L, 4, 4L, 5, 7, 9, Baron, Lawton long handle, cylindrical handle *
• Incompatible scalpel handles: Beaver handle, Disposable handles
*some brands may not work with Qlicksmart BladeNeedleSYSTEM
FAQ
Is the BladeNeedleSYSTEM sterile?
Yes. The BladeNeedleSYSTEM is sterilised via Gamma radiation or ETO.
Can I have the BladeNeedleSYSTEM put into my procedure pack?
Yes. The BladeNeedleSYSTEM is available off-the-shelf or through procedure packs. Contact us to find out the distributor or Kit Packer in your area.
How do I dispose of the BladeNeedleSYSTEM after use?
After the count has been performed, the whole BladeNeedleSYSTEM unit should be disposed of as medical waste in a sharps container.
Can the BladeNeedleSYSTEM be re-used to remove more blades?
No. In keeping with the principals of universal precautions, BladeNeedleSYSTEM is designed for single-use only. The scalpel blade cannot be removed once it is securely contained in the cartridge. If you need to remove more than 2 blades, please use additional cartridges, available for purchase separately.
Can I use two hands to operate BladeNeedleSYSTEM?
The process of activation, (i.e. pushing the loaded scalpel into the cartridge) should always be single-handed. There is no need to hold onto the BladeNeedleSYSTEM during this stage. Two hands are required only when removing the scalpel handle from the device after the blade is already safely secured in the cartridge.
Why is there red printing on the cartridges?
The red printing guides on each cartridge indicate the direction of which way of the loaded scalpel should be inserted. If the blade is inserted in the opposite direction, the device will not activate. For a video guide on how to use the BladeNeedleSYSTEM, please click here.
Is the BladeNeedleSYSTEM latex and DEHP free?
YES, it is latex and DEHP free. The BladeNeedleSYSTEM is made from polypropylene (PP).