Watch Video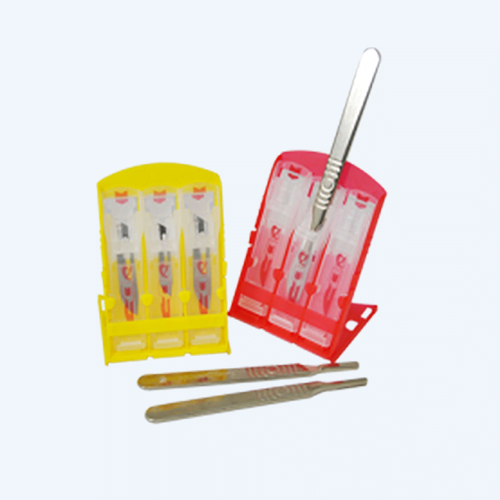 BladeCASSETTE Sterile Scalpel Blade Remover
In Stock, contact us for quote.
enquire now to find a distributor in your area
Maintain safe sharps practices in the Operating Theatre with the Qlicksmart BladeCASSETTE. Engineered by healthcare professionals, the BladeCASSETTE utilises automatic safety technology for safe and efficient scalpel blade removal, containment, counting, and disposal.
Removes up to 3 scalpel blades, with a single-handed action
Audible "click" sound signifies safe scalpel blade removal and containment
Transparent cartridges for easy counting of contained blades
Compliant with Australian Standard AS 3825:2020 and sharps safety practices
Available off-the-shelf (sterile) or as part of a surgical procedure pack
Compact in size – perfect for Mayo stands
Compatible with most general surgery blades; compatible with flat handles, long handles, Baron handles, and circular handles.
This easy-to-use solution provides a low cost alternative to safety scalpels, allowing surgeons to maintain their preferences for the standard metal handle. Available for sterile and non-sterile usage.
Note: The colour of the product is dependent on your region's regulations.
RED – USA, Central, and South America markets only
YELLOW – Oceania, Asia, Europe, Africa, and Canada markets only
For Australian customers, sample blunt blades are available for trial.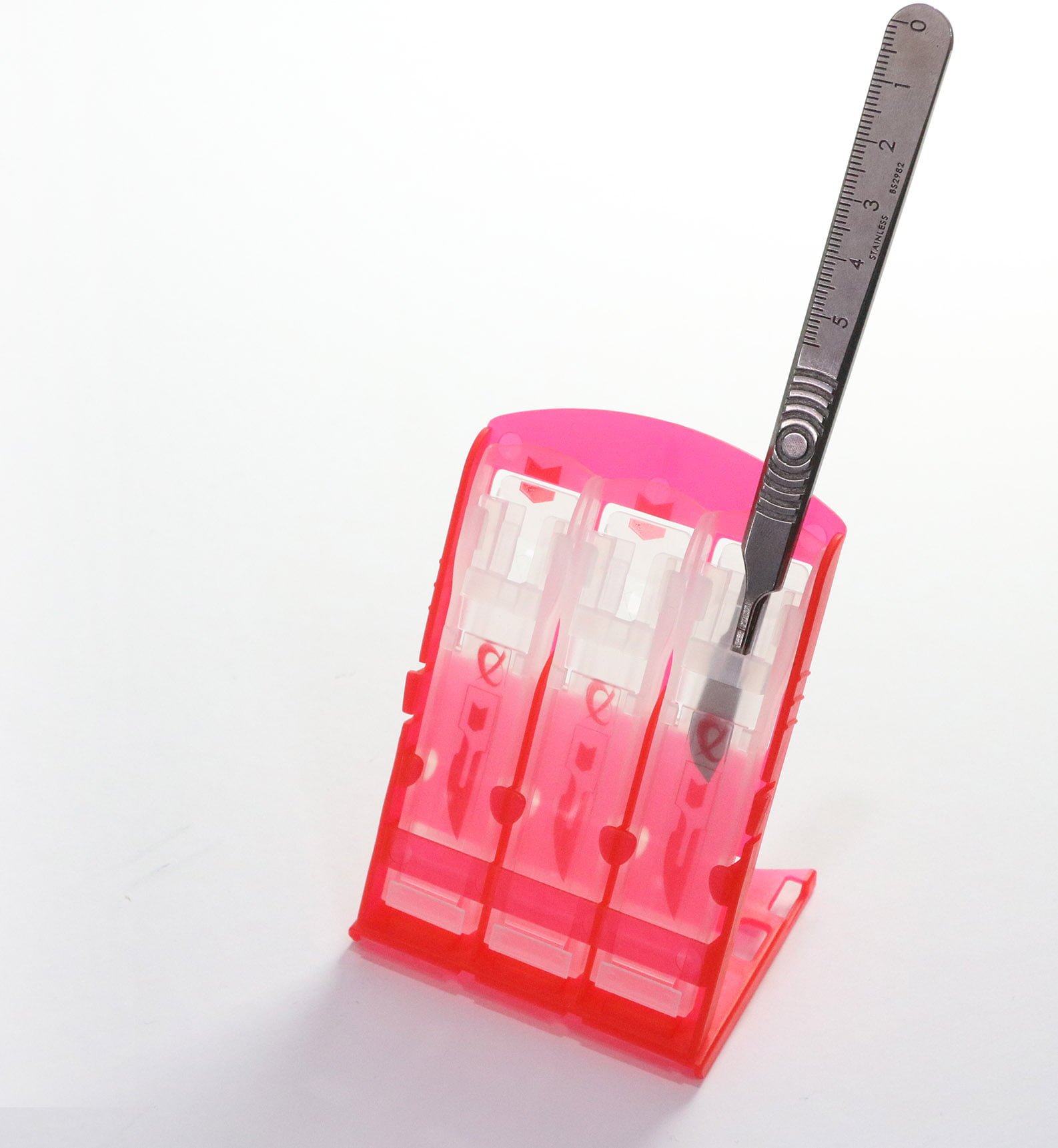 Specifications
• Blade capacity: 3 blades (1 per cartridge)
• Compatible scalpel blades: #10, 10a, 11, 11P, 12, 14, 15, 15a, 15c, 16, 19, 20, 21, 22, 22a, 23, 24, 25, 25a, 27, 36, 6, 9, E11, Sabre D/15. *
• Compatible scalpel handles: #3, 3L, 4, 4L, 5, 7, 9, Baron, Lawton long handle, cylindrical handle *
• Incompatible scalpel handles: Beaver handle, Disposable handles
*some brands may not work with Qlicksmart BladeCASSETTE
FAQ
Is the BladeCASSETTE sterile?
Yes. The BladeCASSETTE is sterilised via Gamma radiation or ETO.
Can I have the BladeCASSETTE put into my procedure pack?
Yes. The BladeCASSETTE is available off-the-shelf or through procedure packs. Contact us to find out the distributor or Kit Packer in your area.
How do I dispose of the BladeCASSETTE after use?
After the count has been performed, the whole BladeCASSETTE set is disposed of as medical waste in a sharps container.
Why are there 3 cartridges in each BladeCASSETTE?
As BladeCASSETTE is designed for the sterile field, in consultation with healthcare professionals. After collecting feedback from healthcare professionals in the Operating Theatre, the BladeCASSETTE was designed with 3 cartridges to cater for most operations.
Can the BladeCASSETTE be re-used to remove more blades?
No. In keeping with the principals of universal precautions, BladeCASSETTE is designed for single-use only. The scalpel blade cannot be removed once it is securely contained in the cartridge. If you need to remove more than 3 blades, please use additional BladeCASSETTE.
Can I use two hands to operate BladeCASSETTE?
The process of activation, (i.e. pushing the loaded scalpel into the cartridge) should always be single-handed. There is no need to hold onto the BladeCASSETTE during this stage. Two hands are required only when removing the scalpel handle from the device after the blade is already safely secured in the cartridge.
Why is there red printing on the cartridges?
The red printing guides on each cartridge indicate the direction of which way of the loaded scalpel should be inserted. If the blade is inserted in the opposite direction, the device will not activate. For a video guide on how to use the BladeCASSETTE, please click here.
Is the BladeCASSETTE latex and DEHP free?
YES, it is latex and DEHP free. The BladeCASSETTE is made from polypropylene (PP).
Why is there a red and yellow BladeCASSETTE?
In the USA, Central America, and South America, sharps devices are recognised by the red colour. In most other countries, sharps devices are recognised by the yellow colour. BladeCASSETTE is designed to follow these standardised colour codes.
Please consult with your organisation if you are unsure which colour is standard in your area.