Sharps Injury Case Study in the OR
We talk a lot on this blog about sharps injuries and how they may impact the victim and institution. Sometimes, it's difficult to comprehend the consequences of a sharps injury in a "real-world" sense. Earlier this year Dr Dean C. Taylor from North Carolina presented his own cautionary story of when he contracted a sharps injury to offer insights into the risk of sharps injuries in the OR and what needs to be done to improve both staff and patient safety. Below is a summary of the sharps injury case study.
The incident:
The first case scheduled for the OR team was a left knee arthroscopy, medial meniscal repair, and allograft anterior cruciate ligament (ACL) reconstruction. There was a posting discrepancy which was rectified before the patient left the preoperative area, but the necessary OR equipment still needed to be fixed.
Surgical team included:
physician assistant (PA)
nurse anesthetist,
circulating nurse
Scrub nurse
2nd year resident
Surgeon and resident's supervisor (Dr Taylor)
Set-up of Operating Room (OR)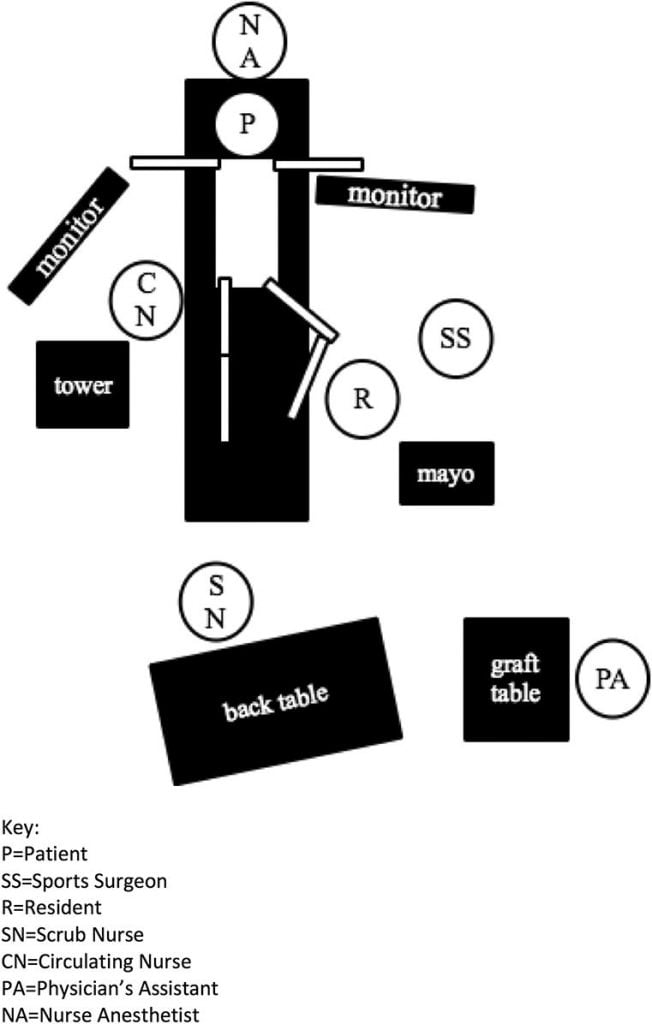 While a time-out was conducted as per procedure, there were set-up issues identified afterwards, that the scrub nurse, circulating nurse and nurse anaesthetist worked to fix.
During the surgical procedure, the resident turned to hand the scalpel to the scrub nurse, who was still organizing equipment. The resident went against procedure and set the scalpel down on the Mayo stand, which no one saw.
Dr Taylor casually placed his left elbow on the Mayo stand, and became victim to a sharps injury. The scalpel fell to the ground, after it had penetrated his gown and skin and cut his ulnar nerve.
The ulnar nerve was repaired, but two years later Dr Taylor is still experiencing substantial dysesthesias and numbness in the ulnar nerve distribution.
Takeaways from the sharps injury case:
1. Be aware of the consequences of sharps injuries to yourself and others
The most common sources of sharps injury are disposable syringes (37%) and suture needles (19%), followed by scalpels (17%)
76% of sharps injuries are to someone who was not using the sharps instrument
Most incidents occur between the steps of a multistep procedure (41%), or during routine use (30%)
2. Specific strategies need to be made to avoid a further sharps injury case
Institutions need to establish, emphasize and comply with sharps policies and specific OR team sharps procedures—including implementing strategies such as cut-resistant gloves, hand-free passing techniques (HFPT), and scalpel blade removers
Sharps policies should be included in workplace safety educational programs to all staff
Issues related to equipment need to be addressed before draping the patient.
3. General strategies need to be made to improve OR safety & the work environment
Institutions need to implement proven policies and operating procedures

In the OR, multitasking is common, stress levels are high and drift can occur
Proven policies and procedures are necessary to limit human error and limit the reliance of human memory

Institutions need to invest in cultivating effective communication and emotional intelligence

Begin each day with a team briefing to ensure that the team know each other, are comfortable with their role, and to review the requirements of the day's cases and procedures—including sharps policy
Include sharps policy into "Time-Outs"
Use "call outs" and "call backs" as part of sharps handling policies and procedures. Eg. Call out loud enough for all to hear "sharp in the safe zone" and wait for a confirmatory call back of "sharp in the safe zone". Again, this should be clear to all team members and agreed upon in advance

Institutions need to develop a trusting, patient-centred culture

A culture requires extensive commitment, time, and energy; however, the return on investment is high to all people involved.
4. A sharps injury will have second-victim effects
A Second-victim is defined as "one who is involved in an unanticipated adverse event who feels traumatized, even to the point of feeling responsible for having failed or second-guessing his or her own skills and knowledge"
In this case, all team members felt traumatized by the event; concerned that their actions had contributed to the serious injury.
Dr Taylor's sharps injury case is one that can provide some insight into just how a sharps injury can occur in the OR, and the vast implications that a sharps injury can have on not only the victim, but others around. OR teams need to be aware of sharps instruments, and institutions need to implement and emphasize specific actions and procedures to prevent educate their staff and prevent sharps injuries in the OR. In addition to being "patient-centered", the OR should also be "team-centered" to ensure that staff safety is made a priority.
Reference:
Taylor, D. C., et al. (2018). "Ulnar Nerve Transection in an Orthopaedic Surgeon Sustained During Surgery: A Case Report and Commentary." The Journal of bone and joint surgery. American volume 100(1): e2.