BladeFlask EVO Scalpel Blade Remover
In Stock
AUD 36.45
The Qlicksmart BladeFlask EVO is the latest innovation in scalpel safety – accommodating a wide range scalpel handles and blades including large autopsy scalpels, circular handles, and hexagonal handles.  Remove and contain up to 100 scalpel blades quickly and safely with the BladeFlask EVO.
OSHA compliant with single-handed activation when used with the reusable Mounting Bracket (Sold Separately)
Audible "click" sound signifies safe scalpel blade removal and containment
Built-in counter with automatic shutoff when maximum capacity is reached
Mount on a wall, bench, or trolley with the Qlicksmart universal Mounting Bracket (product code QBRGEN)
Puncture-proof sharps container which meets Australian Standard 4031:1992
Compliant with Australian Standard AS 3825:2020 and sharps safety practices
Compliant to International Standards and Regulations
Comes under Engineering Controls as a passive-safety engineered device to prevent occupational injury and infection
Compatible with all BP standard scalpel handles, as well as Baron, circular, hexagonal, Lawton-long, and Post-mortem handles (PM 6 and 8)
Sold Separately
The Qlicksmart Mounting Bracket is needed to affix this to a flat surface.
The BladeFLASK EVO is now available to order. Please Click HERE to send an enquiry.
Note: The colour of the product is dependent on your region's sharps container regulations.
RED – USA, Central, and South America markets only
YELLOW – Oceania, Asia, Europe, Africa, and Canada markets only
Orange Label – UK and Ireland markets only
Please note that website orders for this item is only available to Australia. For orders in other locations, please contact us to find the distributor in your area.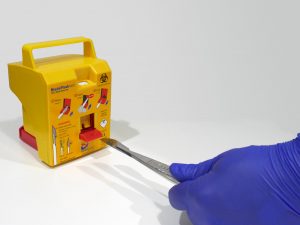 Specifications
Blade capacity: Approximately 100 blades
All commercially available scalpel blades including (but not limited to) up to size PM 60A, PM60B, PM70.
All commercially available BP scalpel handles including (but not limited to) PM6, PM7, Barron, and the new Ergonomic handles.
*some brands may not work with Qlicksmart BladeFlask EVO
FAQ
When should I replace my BladeFlask EVO?
The BladeFlask EVO shuts-off automatically after approximately 100 blades are removed, and then must be disposed and replaced. Please check the count-down indicator which counts down from 100 to 0, then 'FULL' to see when you will need to replace the BladeFlask EVO.
Who should be using BladeFlaskEVO?
Anyone who uses scalpel blades can use the BladeFlask EVO, including those working in outpatient centres, clinics, laboratories, and mortuaries. The BladeFlask EVO was designed as the next generation of the BladeFLASK, and can now remove large blades like those used in mortuaries, and accommodates barron, bulbous, circular or hexagonal handles used for plastic surgeries and in some dental clinics.
How do I dispose of the BladeFlask EVO
Please follow your organisation's infection control guidelines on the disposal time-frame for used BladeFlask EVO, regardless of whether the unit has shut off. Once the BladeFlask EVO has shut-off, it must be disposed of as medical waste. Please also follow your organisation's standard procedures for disposal of medical waste that contain sharps. The BladeFlask EVO has been tested in accordance with the provision of the United Nations Transport of Dangerous Goods, Chapter 6.
Why do I need a Mounting Bracket?
The Mounting Bracket helps to position the BladeFlask EVO so that it can remove blades single-handedly. The Mounting Bracket also allows the BladeFlask EVO to be mounted on a vertical or horizontal surface (eg on a wall or bench), so that blades can be removed at point of use.
How do I install the Mounting Bracket?
You can affix the Mounting Bracket via the industrial-strength double-sided tape, or by screws and lugs which are included in the packaging. A fitting template has been included in the Mounting Bracket packaging to indicate the clearance required for easy installation.
When should I install a new Mounting Bracket?
You can re-use the Mounting Bracket until the current bracket starts to become loose or it no longer holds the BladeFlask EVO firmly.
Why are there two different colours of the Qlicksmart BladeFlask EVO?
The Qlicksmart BladeFlask EVO has been designed to comply with the international standard colours for medical sharps waste. The red unit complies with US, Central America, and South America standards, and the yellow unit complies with most other countries' standards. Please consult your organization to determine which unit complies with local standard colours for medical sharps waste.
Is the BladeFlask EVO latex free?
YES. The BladeFlask EVO body is made of a thermoplastic, acrylonitrile butadiene styrene (ABS) and Acetyl, and the inner mechanism in made from ABS and Stainless Steel. The Mounting Bracket is made from acrylonitrile butadiene styrene (ABS).