Continuing Education – Sharps Safety
The following course was designed as a continuing education activity for perioperative nurses, surgical technicians, and other perioperative healthcare professionals who are involved in the use of sharps and exposed to sharp injuries.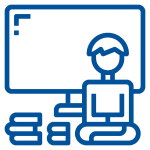 Teaching Methodologies
This continuing education activity is governed by principles of adult learning. PowerPoint images will be used to augment the speaker's presentations and a supportive study guide with content and references is provided to each participant. Attendees will have an active role in discussion as well as opportunities to ask questions and share experiences.
---
After completing this activity, the participant should be able to:
Identify the risks associated with sharps injuries.
Discuss incidence of sharps injuries and statistics to recognize that you are at risk.
Discuss why staff ignore their own personal safety.
Discuss regulatory issues, guidelines, and updates.
Explain the concept and cost benefit of scalpel safety & ampoule safety.
Outline methods for implementing safety into the workplace.
---
To access this course, please login or register using the links above. Once registered, check your email (it might be in your junk/spam folder) to verify your account.